Evropustofa invites all to attend a grand concert in honor of Europe Day on 9 May at the Eldborg Hall in Harpa. The theme of the concert is the joy of Greek Music, with musical performances of the Caput ensemble, accompanied by Geoffrey Douglas Madge and Thora Einarsdottir, and by Greek rembétiko band Pringipessa Orchestra.
The magnificent music of Skalkottas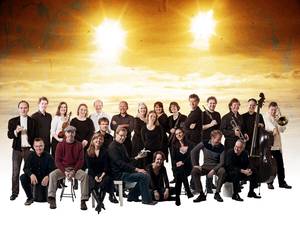 The theme of the concert is Greek, in light of the Greek Presidency of the Council of the European Union. The Caput ensemble will open the evening, where guests will be introduced to music by the marvelous Greek composer Nikos Skalkottas (1904 – 1949), one of the most outstanding European composers of the first half of the 20th century. The Icelandic Caput ensemble will be joined on stage by the world famous Australian/Dutch pianist Geoffrey Douglas Madge and Thora Einardsdottir, one of Iceland´s most beloved soprano singers.
Included in the program is the 1st movement of Skalkottas Third Piano Concerto (1939) a large-scale masterpiece and mostly hidden treasure until Geoffrey Douglas Madge recorded the piece with Caput ensemble under the baton of Nikos Christodoulou in 2002, released by BIS 2004. This recording was nominated to "Deutche Schallplattenpreis" in 2004.
Thora Einarsdottir has also recorded Skalkottas for BIS, along with the Icelandic Symphony Orchestra. Among them the Mayday Spell, but movements from that beautiful work will also be introduced to the festive program.
Rembétiko in Reykjavik!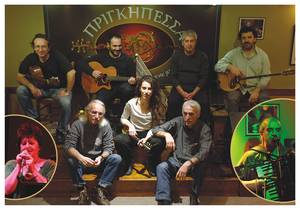 In the second half of the concert, the renowned Greek band Pringipessa Orchestra will burst on stage, playing rembétiko music by Vasílis Tsitsánis (1915-1984), bouzouki player and one of the fathers of modern day rembétiko. Rembétiko, a form of folk music, was born in the underground scene of Greek harbor-towns at the turn of the twentieth century; in taverns, coffeehouses, hash dens, and even prisons. The musical style has evolved over the years to adapt and absorb new influences, undergoing a powerful revival in the 60s and 70s where it was strongly connected to the atmosphere of protest and opposition to military dictatorship.
Pringipessa Orchestra consists of internationally renowned musicians, well known for their contribution to the continuance and promotion of rembétiko and laikó [urban-popular] styles. During the concert the orchestra will bring to life the original recordings of Vasílis Tsitsánis, in new arrangements yet in keeping with the same aesthetics.
Free entrance – but reserve your ticket!
The concert is free, but tickets must be reserved. Further information will soon be available.
The Munnharpan bistro on the ground floor of Harpa will serve a Greek menu on the occasion.